Find out about all the great events first-year students can attend during Welcome Weekend.
FRIDAY, August 25 (Move-In Day)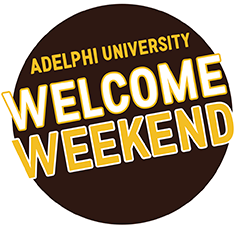 Campus Recreation Facilities 
9:00 a.m.–7:00 p.m. Pool open 12:00 p.m.–2:00 p.m.
Access includes the Fitness Center, racquet courts, indoor track, tennis courts. (The main gym will not be available due to necessary setup for Matriculation Ceremony.)
---
First-Year Student Move-In
9:00 a.m.–3:00 p.m.
Check in with Residential Life staff at your assigned building. A Welcome Wagon team will be on hand to help you move in.
---
Bus Trips to Local Stores
11:00 a.m.–3:00 p.m., Leaving from the University Center
Did you forget a last-minute item? Maybe you just need to jazz up your room? Hop on the the shuttle and head to local shopping establishments, including Marshalls, Walmart, Target and Bed Bath & Beyond. The Shuttle will continuously run from the University Center to each stop and back between the hours of 11:00 a.m. and 3:00 p.m.
» Bus Schedule (PDF)
---
Jumu'ah Prayer
1:15 p.m., Interfaith Chapel, University Center 306
Officiated by Abdin Chande, Muslim Chaplain
Khutbah: Abraham—lessons from the father of monotheistic diversity plus the virtues of the first 10 days of the month of Dhul Hijjah (Pilgrimage).
---
Welcome Activities
3:30 p.m.–5:00 p.m., Quad
Wellbeing Gametruck Experience. An interactive event including obstacle courses, bubble soccer, laser tag and video gaming! Take the time to relax and let loose after moving in and getting settled.
---
Parent Orientation
3:30 p.m.–5:00 p.m., TBD
Parents and guardians are invited to this orientation to learn about such topics as health and safety, academic life, and careers and internships. We will also discuss the transition from high school to college, and ways for parents and guardians to adjust to that new situation.
---
President's Reception (Students and Parents)
5:00 p.m.–6:00 p.m., Center for Recreation and Sports
After a long day of moving into the residence halls, first-year students and their families are invited to attend an informal reception hosted by President Christine M. Riordan, Ph.D. Enjoy light refreshments with other students and parents of the class of 2021 and meet members of Adelphi's leadership team, including our academic program deans. This reception is free of charge and open to all on Move-In Day.
Register online to attend:
---
Shabbat Service
6:00 p.m., Interfaith Chapel, University Center 306
Adelphi's Jewish Chaplain, Rabbi Glenn Jacob, will officiate Erev Shabbat services in a Progressive setting.
---
Bookstore Bonanza
7:00 p.m.–8:30 p.m., University Center Lower Level
Beat the rush! Order your textbooks online at adelphi.bncollege.edu for pickup during this night's special extended hours just for you. The bookstore will be offering a 15% discount in store that night on Adelphi emblematic gear—mugs, spirit wear, etc. (not applicable to textbooks). We'll have you ready for the start of the semester.

---
Outdoor Movie
9:00 p.m., Quad, Rain Location Performing Arts Center Concert Hall
Join us in watching Guardians of the Galaxy 2 on the lawn. Bring a blanket, meet some friends and enjoy some free popcorn and cotton candy from the Student Activities Board. 
Saturday, August 26 (Explore NY Day)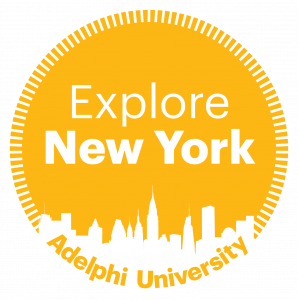 Campus Recreation Facilities
9:00 a.m.–1:00 p.m. (Pool Closed)
Access includes the Fitness Center, racquet courts, indoor track, tennis courts. (The main gym will not be available due to necessary setup for Matriculation Ceremony.)
---
Breakfast on Your Own
---
Off Campus Trips
Join us for the first ever Explore New York Day as part of Welcome Weekend. We are excited to visit New York City landmarks and culture with our first-year and incoming international students. Registration is required for all trips by visiting adelphi.universitytickets.com. Transportation is provided from the University Center on the Garden City campus.
All trips have a $5 nonrefundable fee.
All trips are limited, so reserve your spot quickly. Reservations will be on a first-come, first-served basis.
Students are encouraged to bring their own refreshments on trips unless otherwise noted.
Trip options include:
Adelphi Cruise around Manhattan—Cruise through New York in style as you learn about landmarks, see the boroughs of New York City and meet other first-year students. 
NYC Scavenger Hunt—Work with your classmates as you discover the offerings of midtown Manhattan while finding clues, taking pictures and racing other Adelphi teams. We promise a day of fun and excitement.
Coney Island's Luna Amusement Park—This amusement park, home to the Cyclone, includes rides, boardwalk and more. It will be a day of fun with an all access pass and extreme upgrade card for even more fun on the rides. Be sure to stop by the original Nathan's Famous Hot Dogs while visiting Coney Island.
Adelphi Visits Broadway: Kinky Boots—Based on a true story and the indie film of the same name, Kinky Boots follows young Brit Charlie Price, who abandons his family's shoe factory to live with his demanding girlfriend in London. After the unexpected death of his father, Charlie returns to the struggling factory and finds it's up to him to figure out a way to keep the business alive. Enter Lola, a fabulous drag queen, who gives Charlie the idea to create ladies' shoes for men. Soon, the factory is turning out "kinky boots" under the supervision of Charlie and Lola, but can this harebrained scheme actually work? And can these two extremely different men find a common ground and become real friends?
Adelphi Visits Broadway: Charlie and the Chocolate Factory—Willy Wonka, world famous inventor of the Everlasting Gobstopper, has just made an astonishing announcement. His marvelous—and mysterious—factory is opening its gates…to a lucky few. That includes young Charlie Bucket, whose life definitely needs sweetening. He and four other golden ticket winners will embark on a mesmerizing, life-changing journey through Wonka's wondrous world. Get ready for chocolate waterfalls, exquisitely nutty squirrels and the great glass elevator, all to be revealed by Wonka's army of curious Oompa-Loompas. Get your tickets today and unwrap a world of pure imagination.
Adelphi Visits Broadway – Waitress—Based on the 2007 film by the late Adrienne Shelly, Waitress follows Jenna, a pregnant waitress in the south trapped in an abusive marriage and looking for a happy ending. She finds relief—and potentially that happy ending—by making creatively titled pies and forming a romance with an unlikely newcomer.
Adelphi Visits Broadway: Aladdin (SOLD OUT)—In the middle-eastern town of Agrabah, Princess Jasmine is feeling hemmed in by her father's desire to find her a royal groom. Meanwhile, the Sultan's right-hand man, Jafar, is plotting to take over the throne. When Jasmine sneaks out of the palace incognito, she forms a connection with Aladdin, a charming street urchin and reformed thief. After being discovered together, Aladdin is sentenced to death, but Jafar saves him by ordering him to fetch a lamp from the Cave of Wonders. Where there's a lamp, there's a Genie, and once Aladdin unwittingly lets this one out, anything can happen!
Adelphi Visits Broadway: Wicked (SOLD OUT)—So much happened before Dorothy dropped in. Wicked, the Broadway sensation, looks at what happened in the Land of Oz…but from a different angle. Long before Dorothy arrives, there is another girl, born with emerald-green skin—smart, fiery, misunderstood, and possessing an extraordinary talent. When she meets a bubbly blonde who is exceptionally popular, their initial rivalry turns into the unlikeliest of friendships…until the world decides to call one "good," and the other one "wicked." 
Brooklyn Botanic Gardens (No longer available)—Spend the day among the amazing plants, trees, sculpture and landscapes. Brooklyn Botanic Garden is an urban garden that connects people to the world of plants, fostering delight and curiosity while inspiring an appreciation and sense of stewardship of the environment
Youth Service Opportunity Program—(No longer available)
---
Dinner on Your Own
Themed dinner in Post Hall
---
Comedy Show featuring Xclusive
7:30 p.m., Concert Hall, Performing Arts Center
This multitalented and multidimensional performer utilizes physicality, inventive artistry and pop culture to entertain an audience. Xclusive has developed and seamlessly executes a one-man, three-ring circus of which he is the ringmaster. Through hip-hop/anime dance, audience interaction and standup comedy, Xclusive delivers and keeps his fans wanting more!
Sunday, August 27 (Matriculation and Spirit Day)
---
Campus Recreation Facilities
1:00 p.m.–9:00 p.m. (Pool Closed)
Access includes the Fitness Center, racquet courts, indoor track, tennis courts. (The main gym will not be available due to necessary setup for Matriculation Ceremony.)
---
Breakfast on Your Own
---
Adelphi Reads Book Presentation
10:30 a.m.–11:30 a.m.
This is a mandatory event for all first-year students. Bring your Adelphi ID card for swipe-in attendance.
In mid August, a postcard was sent to your home with your book presentation location.
The Adelphi Community Reads is part of a campus wide initiative. We bring students together with a common academic experience and expose them to new idea about society and the world. Adelphi Community Reads is connected to an array of events, activities and lectures that will be offered throughout the first year. The project is a wonderful opportunity for faculty, students and administrators to share diverse opinions and learn from one another.
The book presentation will introduce students to this year's book, No Impact Man by Colin Beavan. The author had an environmental mission, spending an entire year eliminating plastics and toxins, electricity and more. He involved his young daughter and wife on this journey, which forces the reader to think differently about the environment and how we all can have an impact.
---
Matriculation Ceremony
11:30 a.m., Center for Recreation and Sports
This is a mandatory event for all first-year students
Adelphi University officially welcomes students of the Class of 2021. This is a time-honored Adelphi tradition during which students are formally welcomed as scholars into the Adelphi Community. Members of Adelphi's Board of Trustees, as well as the University's faculty, process in academic attire, lead the distinguished procession, and then welcome the first-year student class during this ceremonial occasion. Students are also welcomed by current upper class leaders.
Past keynote speakers have included eminent alumni, renowned members of the community, and national and global leaders. During this ceremony, an entering first-year student is presented with the University's Honor Code on behalf of the new student body.
Matriculation reflects the ceremonial entrance of the student into the academic community in a similar formal tradition that celebrates the graduate during Commencement.
---
Pantherpalooza
1:00 p.m.–4:00 p.m., Parking Field #5
Join the fun! Come visit our campus organizations, enjoy live music, inflatables, a BBQ, vendors, novelty foods, a photo booth and much more. Make a shirt, decorate a cowbell or leave your own unique mark on our do it yourself spirit items to take with you to the pep rally. You can also get ready to cheer on your fellow Panthers throughout the year with your own Adelphi memorabilia.
---
Protestant Service
3:00 p.m., University Center Chapel
An Ecumenical Christian service of welcome, scripture, prayer and praise officiated by Reverend Michael Delaney, Protestant Chaplain.
---
Catholic Mass
4:00.p.m., Interfaith Chapel, University Center 306
A celebration of the highest and most central part of Catholic life, officiated by Fr. Jeff Yildirmaz, Catholic Chaplain, as we gather at the table of the Lord to rest and prepare for the upcoming year.
---
Yoga on the Quad
5:00 p.m., Quad, Rain location: Exercise Studio 3rd Floor Woodruff Hall
---
Pizza, Pep Rally, Bonfire and Laser Light Show
7:00 p.m., Parking Field #5; Rain Location: Center for Recreation and Sports Gym
Let's Go Panthers! Come for some free pizza from local restaurants, learn your Adelphi chants and watch performances from our Cheer Team, Dance Team and Hip Hop Team. We will also get ready for the Fall semester by meeting our athletic teams and showing our Panther Pride. The night will end with a bang featuring a laser light show and bonfire.
Want to see more?
Visit these sites for more info on Fall events and club info.