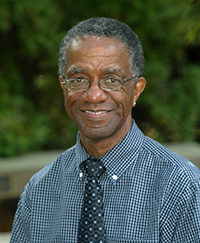 The Dinner and Dialogue Series allows for informal conversations between university students and faculty, staff, or administrators of color over dinner. The purpose of the dinner is to provide an opportunity for students to hear about life experiences, careers, successes and challenges in an intimate setting.
Kermit Frazier is a Professor in the Department of English at Adelphi University, as well as contributing faculty in the African, Black and Caribbean Studies program. He is also as an accomplished author and playwright.
This event is open to students only. 
RSVP is required as space is limited!
Send an email to multicultural@adelphi.edu.
---
For more information, please contact:
Multicultural Affairs
e – multicultural@adelphi.edu