With Julie Ribaudo, LMSW, IMH-E® (IV)
---
About the Program
Reflective supervision is an act of shared mindfulness; a relationship for learning within which a protected space is formed between didactic instruction and psychotherapy for the purpose of examining, deepening, expanding, and refining therapeutic consciousness—also known as the ability to be fully present, especially in mind and feeling with insight into both the self and the supervisee (Foley, 2009; Geller & Foley, 2009). Furthermore, it is understood as a relationship that nurtures a process of remembering, reviewing and thinking out loud about each specific child, the important people who care for that child, and what does or does not happen between them. "Reflective supervision enhances vision, clarifying what is seen and even what is see- able" (Shahmoon-Shanok, 2006).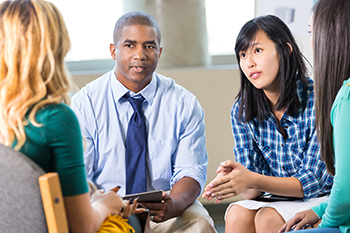 Because mental health professionals who are engaged in infant and early childhood practice see, hear of, and try to prevent some of the hardest of human experiences, including abuse, neglect and disrupted attachments they need this essential space to explore and contain some of the feelings associated with the work. This approach to supervision is different than administrative or even clinical supervision, and without it clinicians can become hardened, overwhelmed or shut down, leading to less effective engagement with children and families or even times distorted perceptions and poor decision-making. Come join instructor Ribaudo in this workshop, where participants will learn about the essential components of Reflective Supervision and explore ways that Reflective Supervision can be incorporated into the work as well as experience the process through the observation of live Reflective Supervision.
Participants will be able to:
Describe the theoretical underpinnings of reflective supervision
Explore ways of increasing clinical reflective functioning
Identify key behaviors exhibited in reflective supervision and key areas of inquiry to facilitate reflection.
---
About the Instructor
Julie Ribaudo, LMSW, IMH-E® (IV), is a Clinical Associate Professor at the University Of Michigan School Of Social Work, where she joined the faculty in 2006. She has practiced for over 30 years with a focus on parent-infant relationships; assessment and treatment of abused and/or neglected infants, toddlers and young children, and consultant with teachers and child care providers regarding young children with difficult behaviors.  In addition to teaching full time, she continues her clinical work, providing Reflective Supervision/Consultation for individuals and groups, is involved in research and service delivery with the Women's and Infant's Mental Health Programs through the Department of Psychiatry at U-M. Ms. Ribaudo has a Post-Graduate Certificate and Endorsement as an Infant Mental Health Therapist and Distinguished Mentor. She was the 2013 recipient of the Selma Fraiberg Award for outstanding contributions to Michigan infants and their families. Ms. Ribaudo provides national and international training and consultation on infants and toddlers and their families. She has authored and co-authored several publications, including a chapter in "Case Studies in Infant Mental Health" published by Zero to Three, and a 2016 article, "Restoring Safety: An Attachment-Based Approach to Clinical Work with a Traumatized Toddler", published in the Infant Mental Health Journal.
---
Registration
---
Adelphi University is committed to providing an environment which is responsive to the needs of individuals with disabilities including students, faculty, administrators, staff and the larger community. The institution is equally supportive of full compliance with the Americans with Disabilities Act (ADA) of 1990 and Section 504 of the Rehabilitation Act of 1973, as amended. The Committee on Individuals with Disabilities (CID) pledges continued active support in achieving universal access and ensuring that academic programs, facilities, and activities are made available to all students, employees and visitors with disabilities.
Accommodations will be made to support learners with special needs to participate in the training/workshop. Please contact the Institute for Parenting Coordinator at 516.237.8513 to request such accommodations.
---
Credentialing Information and Continuing Education
New York State Office of the Professions (NYSED) regulations require that participants must be present for the entire approved educational activity, 9:00 a.m.–4:00 p.m., in order to receive continuing education credits.
There is no accommodation in the State Regulation for late arrival, late return from lunch or breaks, or early departure. At present, there is no procedure for granting partial credit for approved continuing education events.
If there are any changes in State Regulation, this policy will be updated accordingly.
This program has been approved for the following continuing education credits:
Social work (6 hours)
LMHC (6 hours)
LMFT (6 hours)
CASAC renewal (5.5 hours)
Psychology (6 hours)
Education (6 hours)
Successful completion for the award of approved continuing education credits requires attendance at entire training/workshop and submission of a completed evaluation form.
---
Cancellation Policy
No refund can be made for cancellation seven or fewer working days before the event or for no-shows. Cancellations more than seven working days before a workshop will result in a refund less a $15.00 cancellation fee. Requests for refunds must be received in writing.
All registered participants will be notified via email if there is a training/workshop cancellation. Registered participants will be offered a full refund or registration in another offered training/workshop.
---
For further information, please contact:
The Institute for Parenting
Linen Hall, Lower Level Room 8
p - 516.237.8513
e - theinstituteforparenting@adelphi.edu