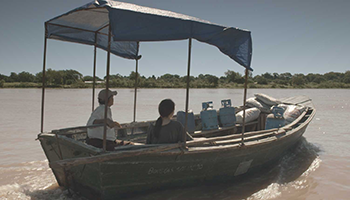 In Guaraní and Spanish with English subtitles
Synopsis
A heartfelt story, Guaraní follows fisherman Atilio as he travels with his granddaughter Iara to Buenos Aires. His great desire is to have a grandson to transmit the Guaraní culture. When he discovers that Iara's mother, Helena, is pregnant, he decides to go on a long journey and cross borders, with the aim to convince Helena to give birth in the Guarani land.
Part road movie and part coming-of-age drama, the film portrays two generations of Paraguayans whose views of the world seem centuries apart. The long journey will make Atilio and Iara understand the real meaning of traditions and family bonds.
Presented by Prof. Sandra Castro, Adelphi University. Part of the Department of Languages, Literatures and Cultures' 
Fall 2016 Spanish Film Club Festival.
 The Spanish Film Club series was made possible with the support of Pragda, SPAIN arts & culture and the Secretary of State for Culture of Spain.