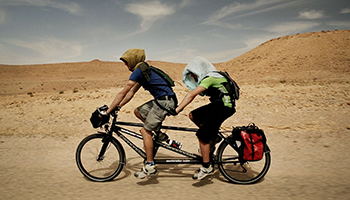 In Spanish with English subtitles
Synopsis
True Smile follows the extraordinary 1,300 kilometers journey Sergio, a blind autistic young man, undertakes with his brother. Over 30 days, Sergio and Juan Manuel traverse desert and high mountains by tandem bike, starting in Cuenca in central Spain and finishing in one of the most remote villages in Morocco's Atlas Mountains.
The candid documentary provides a magnificent glimpse into Sergio's impenetrable world; so similar to the desert he travels to on his trip. What underlines this story is Sergio's amazing ability to challenge his limitations and the infinite love of his brother and companion.
Presented by Dr. Vicente Lledó, Hofstra University. Part of the Department of Languages, Literatures and Cultures' 
Fall 2016 Spanish Film Club Festival.
 The Spanish Film Club series was made possible with the support of Pragda, SPAIN arts & culture and the Secretary of State for Culture of Spain.