In Spanish with English subtitles
Synopsis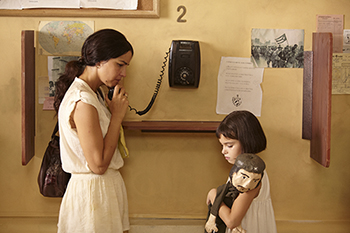 Everybody Leaves is a celebration of freedom and a confrontation of the authoritarian Cuban regime of the 1980s, which led to one of the country's worst economic crises. The film is based on the award-winning novel by Cuban writer Wendy Guerra.
Eight-year-old Nieve is the object of her parents' custody battle. Her mother, Eva, is an artist who believes in the revolution and disagrees with censorship or authoritarianism. She is re-married to Dan, a Swede working on the construction of a nuclear plant. Nieve's father Manuel is a playwright who sacrifices his artistic career to write government propaganda in a remote area of the country.
Through her diary entries, Nieve reveals intimate details of a turbulent family life while painting an authentic portrait of the social and political unrest in Cuba under the rule of Castro.
Presented by Dr. Raysa Amador, Adelphi University. Part of the Department of Languages, Literatures and Cultures' 
Fall 2016 Spanish Film Club Festival.
 The Spanish Film Club series was made possible with the support of Pragda, SPAIN arts & culture and the Secretary of State for Culture of Spain.