The Adelphi LGBTQ and Allies Committee, Diversity Committee, Cultural Affairs Office, AAUP, Faculty Senate, and Provost are pleased to welcome documentary filmmaker Nefertiti A. Strong. 
The program will feature an introduction by Nefertiti Strong and Richard Pelzer, a screening of their documentary For Faith, For Love, Forever and a post-screening discussion. Lunch will be provided.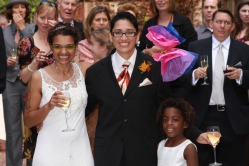 ---
About Nefertiti A. Strong
Nefertiti A. Strong is a force of nature. After starting her career in entertainment as a recording artist signed to Universal/Polygram and an actress in Mario Van Peeble's Panther (1995), she set her sights on directing. With an eye for the camera, Nefertiti joined music with film by making musical documentaries with some of rap's superstars Ice T, Juvenile, UTP, Nelly and more. She also produced a Sundance-selected short in 2004 entitled Phase 5, which also played at the Outfest Film Festival. Currently, Nefertiti is the Producer and Partner of Monos En La Montana and the President of her own company, Catch A Dream Entertainment, Inc., which is currently selling the films, Constellation by Jordan Walker-Pearlman, and Fast Forward Girls, written by herself and Jennifer De Clue. In 2008, Nefertiti directed her first feature film Takin' A Leap of Faith. Nefertiti most recently directed the documentary For Faith, For Love, Forever.
For Faith, For Love, Forever explores the debate on same-sex marriage in the African-American community and its inclusion of the black church. Despite media portrayals suggesting complete disapproval, ordained African-American pastors and ministers are given the opportunity at a Town Hall Meeting in Oakland, CA to speak openly about their reasons for being for the inclusions of same sex couples, their rights to marry and being active members of their individual congregations.
For Faith, For Love, Forever offers its viewers a powerful exploration of the effect that California's Proposition 8 had pre- and post-Election 2008 on the gay community.  The discussion of black gays having a right to marry as a matter of inclusion in the church makes for a most diverse and unique topic.