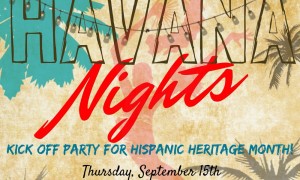 National Hispanic Heritage Month begins on Thursday, September 15th, and to kick off a month full of celebration, the Latino Student Association hosts Havana Nights!
Sponsored by The Student Activities Board, Sigma Lambda Upsilon/Senoritas Latinas Unidas, Sorority, Inc. and La Unidad Latina/Lambda Upsilon Lambda, Fraternity, Inc. Havana Nights brings to life the atmosphere of Havana, Cuba, a historical hub of Hispanic and Latin culture.
Featuring a slam poetry piece, a performance by the AU Step team and a secret performance, this is definitely a night you don't want to miss!
Doors open at 6 PM. Admission fees are $5 for Adelphi students and $7 for non Adelphi attendees (limited two outside guests per student). Tickets are sold at the door ONLY.
If you have any questions about the event, please contact an LSA E-board member or LSA President Heidi Pena Ortiz directly at heidipenaortiz@mail.adelphi.edu.