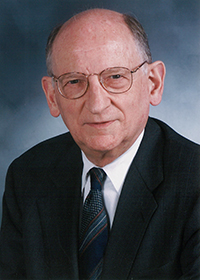 This lecture will be presented as scheduled despite the University's closure.
Dr. Otto F. Kernberg was born in Vienna, Austria, received his M.D. from the University of Chile and did his analytic training in Chile. He is the director of the Personality Disorders Institute, New York Presbyterian Hospital-Westchester Division, a professor of psychiatry, Joan and Sandford I. Weill Medical College of Cornell University, and a training and supervising analyst, Columbia University Center for Psychoanalytic Training and Research.
He received many awards for his contribution to psychoanalysis including two Doctor Honoris causas and has been president of the international psychoanalytic association. He has published 26 books, many of them have been translated into many languages, 257 single authors papers and chapters and 70 with other author.
Dr. Kernberg is a world expert on many areas of psychiatry and psychology, he is most renown for this work on the understanding and treatment of patients with severe personality disorders, especially borderline personality disorders.
Sponsored by the Lindemann Lecture in Human Development