The Dinner and Dialogue Series allows for informal conversations between university students and faculty, staff, or administrators of color over dinner. The purpose of the dinner is to provide an opportunity for students to hear about life experiences, careers, successes and challenges in an intimate setting.
This event is open to students only. RSVP is required as space is limited!
Send an email to multicultural@adelphi.edu.
---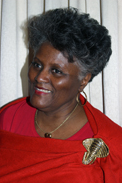 Since joining Adelphi in 1979 as secretary to the Adelphi Research Center, Muriel has had a very progressive career.  In 1982, she received her Associate of Arts Degree in Humanities from the ABLE Program at Adelphi (University College) and in 1987 received a Certificate of Participation from Nassau Association for Continuing/Community Education (NAACE) Teacher Training Seminar at New York Institute of Technology. Also, in 1987 she took the position of administrative assistant to the chair in the Physics Department.
In preparation for her career as a talented Fine Artist, Sculptor and Poet, she received her Bachelor of Arts and Master of Arts in Studio Art degrees from Adelphi University in 1986 and 1988 respectively. In Fall of 1990, she was a Substitute Adjunct Professor for ABLE's Continuing Education/Art Department program. In April 1996, she began her position as Reservations Coordinator for the Ruth S. Harley University Center Operations Department (Auxiliary Services/Operations/Conferences). Seeking to further develop her artistic skills, she studied sculpture at the Art Students League in New York City from 2006-2009.  Her paintings and sculptures have been shown in group and solo exhibits in New York and the Tri-state Area.
In Fall 2007, she became an active member of the Coordinating Committee of the Adelphi University Women, Peace and Justice (WPJ) Project, the beginning of her involvement in many initiatives within the academic community. Currently she serves on the Collaboration Project Anchor Team, the Collaboration Project Steering Committee, the Changing Nature of War & Peace/Arts Sub- Committees and "Conversations on Race" Group.  In 2009 she received the President's Award for Excellence in Service and a Congressional Achievement Award in 2012. Additionally, she is Staff Advisor to the Adelphi NAACP College Chapter, SWING PHI SWING and former Advisor to Pride Alliance.
For Muriel, Adelphi University is a rich environment for professional development and the pursuit of intellectual challenges on a daily basis. As part of the Adelphi Community, her greatest rewards have been interacting with students, witnessing their growth, listening to their dreams, and encouraging their development as young adults who one day after graduation will share their knowledge with others.
---
For more information, please contact:
Multicultural Affairs
e – multicultural@adelphi.edu