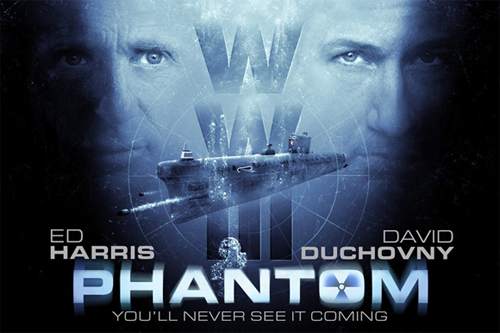 Join writer/director and Adelphi graduate Todd Robinson '82 for a special screening of his new submarine thriller Phantom, starring Ed Harris and David Duchovny. This exclusive event will be hosted by Professor and Chair of the Theatre Department Nick Petron and includes a Q + A session with Todd Robinson and special guest David Duchovny.
Tickets are limited so register now! 
Students:
Adelphi's Senior Legacy Campaign is now able to sponsor all students to make the event free for students only.
Please contact Sylvia Zlatkova at 516.877.4319 to reserve your tickets.
Alumni:
Adelphi alumni are invited to attend this event for $5 per ticket. Limit 2 tickets per alumni registration.
Click here to register online now.
---
For more information, please contact:
Sylvia Zlatkova '08, M.B.A. '10
Assistant Director of Annual Giving
Office of University Advancement
p – (516) 877-4319
e – szlatkova@adelphi.edu