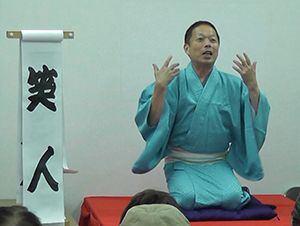 Featuring guest speaker Showto (Laughing Man)
Gambler: The story of a raccoon-dog rescued by a gambler, transforming itself into a die to repay his kindness.
---
Speaker Biography
Showto has been performing Rakugo (Comic oral narrative dates back from the 17th century) in both Japan and abroad, including Boston, Detroit and New Zealand. In Japan, Showto has been performing English Rakugo for international guests who visit Japan. He has been actively promoting Rakugo as a pedagogical tool in elementary and high schools.
---
For more information, please contact:
Keiko Miyajima
Department of Languages, Literatures and Cultures
p – 516.877.4061
e – miyajima@adelphi.edu