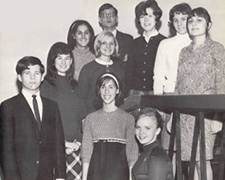 Gather with President Christine Riordan, faculty and staff for a memorable Saturday brunch and Pinning Ceremony to honor the Class of 1967 on their golden anniversary reunion.
Those who attend will receive a commemorative Class Journal complete with historical photos, classmate's questionnaires, and contact information.
Before the reunion, be sure to complete our biographical survey. The results will be compiled into a commemorative Class Journal and presented during the event.
Registration
Pre-registration is available for this event, but not required.