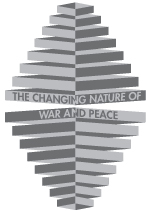 Members of the Adelphi community perform and display artistic representations of protest and celebration as an opening to a year-long series of events addressing The Changing Nature of War and Peace. Performances from Playback Theater Improv and hip hop artist Talib Kweli cap off the event.
These times are subject to change.
» View the first part of this event on September 4
---
Music, Activities and Discussion
10:00 a.m.-5:00 p.m., University Lawns
Join us for student led activities, discussions and events on the University lawns during the day. Includes music (a DJ), speakers and games addressing the theme of the art of protest and celebration of peace.
---
Global Citizenship Workshop
11:00 a.m.-1:00 p.m.,  AU lawns

There will also be a workshop with the organization running a rock concert in Central Park.
---
Songs of Protest
12:30 p.m.-1:00 p.m., in front of the Performing Arts Center
---
Conversation With Vets
1:00 p.m., Performing Arts Center

Veteran Scholars who have their own story to share and (perhaps) compare with David Finkel's Thank You for Your Service, the AU Community Reads selection, depicting returning veterans.
---
Playback Theater Improv
6:30 p.m., Performing Arts Center Olmsted Theatre

Playback Theatre Long Island supported by the Hagedorn Foundation will present an evening of spoken word, improvised theatre, and music exploring the journeys of immigrant communities in Long Island and celebrate dialogue with long term residents. We will respond to the themes of conflict and peace as catalysts for immigration and to human rights and the need for community building. We will work with Adelphi students to create spoken word pieces and to perform Playback Theater which transforms the feelings and stories of its audience into live theatre. We will also work with Students to create a mural that will be the backdrop for the performance and close the night with live music from Soul Inscribed. 
---
Talib Kweli
8:00 p.m., Performing Arts Center Concert Hall

A concert by hip-hop artist Talib Kweli.
The Brooklyn-based rapper earned his stripes as one of the most lyrically-gifted, socially aware and politically insightful rappers to emerge in the last 20 years. His travels around the globe as one of rap's most in-demand performers combined with his conversations with political activists and his genre-straddling work with Idle Warship and others caused Kweli to realize that he was limited in a sense, a prisoner of sorts of his own success as one of the world's best rappers with something significant to say. 
"My music has been associated with those types of causes, with positivity, spirituality, intelligence and being thought-provoking and such," he says. "I think sometimes people get caught up in that part of me as an artist and don't necessarily understand the musicality or fully appreciate the music and the entertainment value behind what I do. I tried to stretch my wings a little bit and bring something that was less beholden to the world of hip-hop and more existing in the world in general."
The result of this artistic growth and exploration arrives with Kweli's dynamic Prisoner Of Conscious AKA P.O.C., an artistic tour de force that signals the start of the next chapter of Kweli's remarkable career. The BK MC spent more time working on Prisoner Of Conscious than any of his other albums, a three-year journey that found him exploring new vibes, joining in some unlikely collaborations and taking him to foreign lands.
Please note that this event will begin at 8:00 p.m. (It has been rescheduled from its previously advertised 7:00 p.m. start time.)
Seating for Talib Kweli's performance is limited and advanced registration is required; limit two tickets per registrant. Register online now.
---
 Sponsored by the 
Collaboration Project
 and the 
Center for Student Involvement
. Part of the 
Changing Nature of War and Peace
 initiative.
---
For more information, please contact:
Devin Thornburg
Professor
Ruth S. Ammon School of Education
e – thornburg@adelphi.edu
Collaboration Project
e – aucp@adelphi.edu