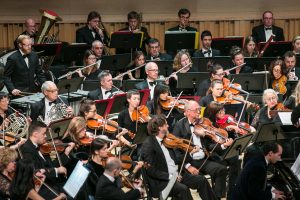 Tickets are currently on sale to Adelphi University PAC members.  Members should click here to purchase tickets. 
Tickets go on sale to the general public on Tuesday, August 7, 2018.
Christopher Lyndon-Gee, music director
Oswaldo Machado, solo piano
Kelley Nassief, solo soprano
The Adelphi Orchestra proudly presents Haydn's famous very early trio of linked Symphonies, Nos. 6, 7 and 8 : Le Matin, Le Midi, Le Soir (Morning, Afternoon, Evening). These are still works in Baroque format, requiring harpsichord continuo. As well, the programme includes the world premiere of Binelli's Violin Concerto.