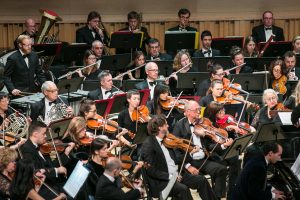 Christopher Lyndon-Gee, music director
Melisa Gohar Atoyan, violin
Symphonies Nos. 6, 7 and 8 :
Le Matin (Morning), Le Midi (Afternoon),
Le Soir (Evening)
Violin Concerto —  World Premiere 
The Adelphi Orchestra proudly presents Haydn's famous very early trio of linked Symphonies, Nos. 6, 7 and 8 : Le Matin, Le Midi, Le Soir (Morning, Afternoon, Evening). These are still works in Baroque format, requiring harpsichord continuo. As well, the programme includes the world premiere of Binelli's Violin Concerto.