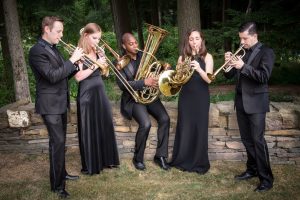 Tickets are currently on sale to Adelphi University PAC members.  Members should click here to purchase tickets. 
Tickets go on sale to the general public on Tuesday, August 7, 2018.
Praised for their "high level of musicality and technical ability" and for their "clean, clear and precise sound," the award-winning Axiom Brass Quintet has quickly established itself as "one of the major art music groups in brass chamber music." As the only Brass Quintet in 27 years to ever win the prestigious Chamber Music Yellow Springs Competition (2012), and the only American ensemble to ever win the Preis der Europa-Stadt Passau in Germany (2012), Axiom has also been named winners of the 2008 International Chamber Brass Competition and prize-winners of the 2016 M-Prize,  2010 Fischoff Chamber Music Competition, the Plowman Chamber Music Competition, and the Jeju City International Brass Quintet Competition in South Korea. Axiom Brass is dedicated to enhancing the musical life of communities across the globe and educating the next generation of musicians.
Internationally recognized for their groundbreaking programming, their repertoire ranges from jazz and Latin music to string quartet transcriptions, as well as original compositions for brass quintet.  Axiom Brass' performances have captured the hearts and imaginations of their audiences, leading the ensemble to national radio and television appearances as well as concerts in Asia, Europe and across the U.S.