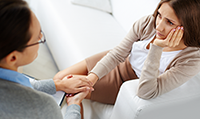 Join us at the Nassau Counselors' Associations 2018 Counselors, Administrators and Parents (CAP) Conference "Emerging Faces of Mental Illness and Substance Abuse" as we break the taboo of mental illness within our schools: Learn to recognize early signs, understand its link to substance abuse, and explore both prevention and treatment strategies.
Attendance at this event is free.
The 2018 CAP Conference is currently at capacity. We hope to see you at the 2019 CAP Conference.
Schedule
8:15 a.m.–8:45 a.m. 
Registration and Breakfast
8:45 a.m.–9:05 a.m. 
Welcoming Remarks
9:10 a.m.–10:30 a.m.

Keynote Presentation:
Terence J. Houlihan, M.S.Ed.
Houlihan Educational Consultants
The Developing Adolescent: A Brain at Risk


Terence will inform us about the cutting-edge research scientists have learned about the developing adolescent brain. He will explore the multifaceted impact of how substances effect the adolescent brain, as well as the impact of trauma. Also, Terence will address the phenomena of risk-taking behavior and the variable effects of social media have on an emergent brain. Counselors will learn more effective ways of engaging and connecting with their students, handling behavioral issues, making referrals, educating parents and developing sound, evidence-based interventions to help teenagers move successfully through their adolescent years. Participants will also gain strategies for collaborating more effectively with administrators, parents, and teachers as part of that intervention system.

10:35 a.m.–11:35 a.m.

Workshop Session I:
Diane F. Sweet, LCSW
Opening the Dialogue: Rethinking Mental Illness, Addiction, and Suicide. For Our Children's Sake


Diane will begin her workshop talking about how educators can break the stigma that surrounds mental disorders by creating a greater awareness, understanding, and compassion for and about mental illness, addiction, and suicide. She will examine the technological revolution and its impact on youth mental health and explore interventions that promote mental health, mental health treatment and support.

11:35 a.m.–11:50 a.m.
Coffee Break and Networking Fair (ongoing)
11:55 a.m.–12:55 p.m.

Workshop Session II:
Steven Dodge, CASAC
A Personal Perspective on Saving Lives from Addiction through Treatment and Education


Steve will inform us of the signs and symptoms of addiction and, from the unique perspective of a recovering addict, how S.L.A.T.E serves to support the choice of sober living and to strengthen one's desire to improve their social and emotional well being. Steve will discuss some steps you can use to help an addict: including crisis intervention, the initial approach with the addict (what works and what doesn't), where to turn for professional help, and what to do once the addict returns home from treatment. Steve will talk about what recovery really is and about the different types of rehab settings that exist. Lastly, he will discuss what S.L.A.T.E. offers the community and what he personally does to contribute to the solution of eradicating this epidemic that is ripping through our society.

12:55 p.m.–1:15 p.m.
Lunch (ongoing)
1:15 p.m.–2:15 p.m.

Feature Presentation:
Larry Glenz
A Parents Perspective on How to  Help and Forgive a Child with Substance Abuse and Mental Health Disorders


Mr. Glenz has been speaking to high school, middle school, and college students as well as their parents about the heroin epidemic on Long Island since the passing of his son, Kevin Glenz, an all American Lacrosse player, in 2010. Larry will share their story and an explanation of the lessons he has learned from their ordeal. As a parent and as an educator Larry will speak about coping strategies and the importance of peer support groups for parents and loved ones of those suffering from mental illness or drug addiction.

2:20 p.m.–2:30 p.m.
Raffles
---
CAP Co-Chairs
Paula Curci
School Counselor
Sewanhaka Central High School District
Melissa Bellantonio
Senior Assistant Director of Admissions
Adelphi University
Graciously sponsored by the Nassau Counselors' Association.