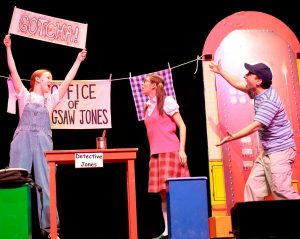 Tickets are currently on sale to Adelphi University PAC members.  Members should click here to purchase tickets. 
Tickets go on sale to the general public on Tuesday, August 7, 2018.
Athena Lorenzo has been slimed and she doesn't think it's very funny! There is a practical joker on the loose in Ms. Gleason's class, so it's up to Jigsaw (Theodore) Jones and his friend Mila to catch the clown. This might be their most slippery case yet. Brimming with music, charm, and humor, ArtsPower's production, based on the book by renowned author James Preller, will make audiences laugh and think as they learn the secret codes that Jigsaw must decipher to solve the mystery.
Recommended for children in grades K through 4 and their families.