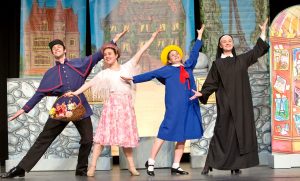 Tickets are currently on sale to Adelphi University PAC members.  Members should click here to purchase tickets. 
Tickets go on sale to the general public on Tuesday, August 7, 2018.
ArtsPower's colorful musical captures the blithe yet touching spirit of Ludwig Bemelmans' much loved Madeline series. This amusing tale traces the adventures of a young Parisian girl who – despite starting off on the wrong foot with a mischievous new neighbor – eventually learns that first impressions aren't everything. Told with gentle humor, and featuring a beautiful musical score, this amusing tale of enemies-become-friends will charm and entertain children and adults alike.
Recommended for children in grades pre-k through 3 and their families.