Adelphi University is pleased to welcome
Marla Kilfoyle
as the speaker for the 2016
Robert and Augusta P. Finkelstein Memorial Lecture
.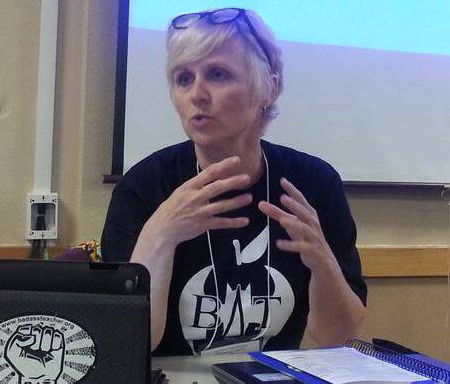 Marla Kilfoyle has been a public school teacher for 29 years. She has worked in rural, urban, and suburban districts.  She has been a teacher in the Oceanside School District for the past 27 years. She started the districts highly successful Social Science Research Program and currently teaches ESL History Support.
Kilfoyle has a Masters of Science in Education and is National Board Certified. She is currently the Executive Director of The Badass Teachers Association, a progressive national education activist organization that exploded into national education activism three years ago. She is also a member of the steering committee for the New York State Allies for Public Education (NYSAPE). She is the wife of Allan and the mother of Kirill (a 13 year old public school student). 
The schedule for the evening is as follows:
5:00 p.m. Dinner Reception Ruth S. Harley University Center, Thomas Dixon Lovely Ballroom Hosted by the Kappa Delta Pi Nu Nu Chapter  
6:00 p.m. Marla Kilfoyle lecture "Fighting for a Seat at the Table: Teacher Voice in the Education Reform Debate"
7:00 p.m. Panel discussion and Q&A session
7:30 p.m. Dessert Reception Hosted by the Future Teachers of America
The dinner, lecture and dessert reception are free and open to the public.
Panelists include:
Dr. Michael Hynes, Ed.D., Patchogue-Medford Superintendent
Jamaal Bowman, Executive Committee of NYSAPE, Bronx Principal
Adrienne Brookes, STEP '08, ELA teacher, Bronx School of Law and Community Service
Jen Wolfe, National Board Certified Teacher, Adolescent/Young Adult Social Studies, Oceanside High School