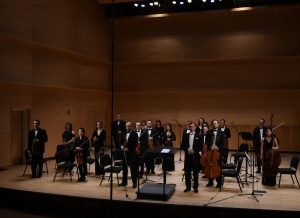 Tickets are currently on sale to Adelphi University PAC members.  Members should click here to purchase tickets. 
Tickets go on sale to the general public on Tuesday, August 7, 2018.
The masterful synthesis of moving images and orchestral forces comes to Adelphi this Fall. The Sounds of Cinema takes the audience on a multimedia tour of 20th Century compositions either scored or repurposed for films.  Excerpts of classic movies will be projected in the Concert Hall while the Capital Symphony Orchestra enhances the drama with the complimentary film scores.  The emotional range of the concert spans from somber (Samuel Barber's Adagio for Strings) to thriller (Bernard Hermann's Psycho Suite) as the live experience creates new perspectives for the viewer.  Online streaming on your smartphone or laptop will pale in comparison to this cinematic experience: prepare for an evening of lights, camera, and action.