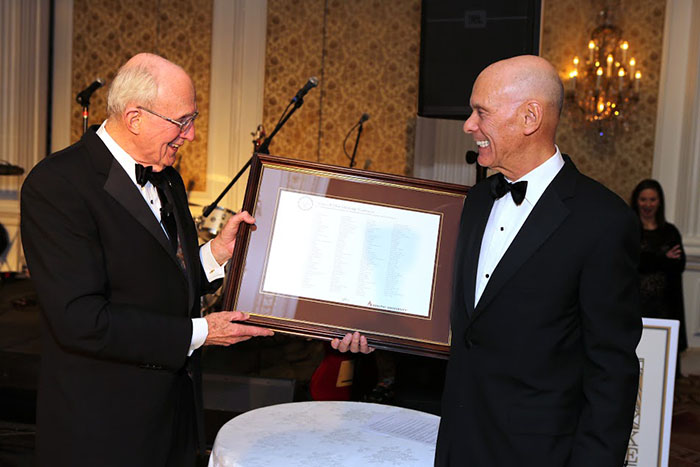 Trustee Emeritus Leon Pollack '63 (right) presents Dr. Scott with the names of the donors to the Robert A. Scott Scholarship.
At the Fifteenth Annual President's Gala, held on March 21, 2015, President Robert A. Scott was presented with a special tribute in recognition of his extraordinary leadership and before he concludes his service as president in June 2015. That evening, Leon Pollack '63, Trustee Emeritus and member of the Million Dollar Round Table, announced that an endowment for student scholarships has been established in Dr. Scott's name.
Nearly 170 alumni, friends and family members have contributed more than $2 million for the "Robert A. Scott Scholarship Endowment," which will provide scholarships to academically-qualified yet financially-needy undergraduate and graduate students. Dr. Scott is the first president in Adelphi history to have a scholarship endowment donated in his honor.
Each year, Adelphi University awards more than $51 million in the form of scholarships and institutional aid. Adelphi is an institution where, thanks to scholarship support, students with talent and ability who lack the necessary resources can benefit from the high quality academic experience the University has to offer. Adelphi's annual President's Gala, the University's largest fundraising event, is one avenue through which Adelphi raises money for student scholarships.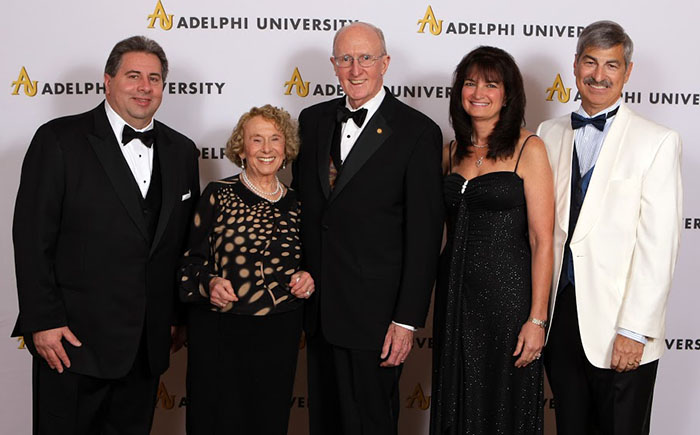 Pictured above: Carmine Pizzo, Dr. Esther Siegel '69, '72, Dr. Robert A. Scott. Phyllis Angello, Frank Angello '77
That evening, the University also honored Phyllis Angello, retired executive, Internal Revenue Service and Frank Angello '77, former chief financial officer, JPMorgan Treasury & Securities Services and former chief financial officer, Lighthouse International for their Outstanding Service to Adelphi; Dr. Esther Siegel '69, M.S. '72, Former Dean of Long Island University's School of Nursing as Outstanding Alumna; and Carmine J. Pizzo, President of Intelli-Tec Security Systems, LLC. as Outstanding Long Island Executive.
The Sixteenth Annual President's Gala will be held on March 12, 2016. For more information, please contact Jessica Foglietta, assistant director of special events, at 516.877.3155 or jfoglietta@adelphi.edu.
Alumni and friends who would like to make a special gift in Dr. Scott's honor can do so by contributing to the Annual Fund, which supports the University's highest priorities including scholarships, by visiting: www.adelphi.edu/annualfund.
---
If you would like more information about scholarship endowments or the Robert A. Scott Scholarship, please contact:
Office of University Advancement
Christian P. Vaupel '96, M.S. '03
p – 516.877.3258
e – cpvaupel@adelphi.edu
About Adelphi: A modern metropolitan university with a personalized approach to higher learning.
Adelphi University is a highly awarded, nationally ranked, powerfully connected doctoral research university offering exceptional liberal arts and sciences programs and professional training with particular strength in its Core Four—Arts and Humanities, STEM and Social Sciences, the Business and Education Professions, and Health and Wellness. Adelphi is dedicated to transforming students' lives through small classes, hands-on learning and innovative ways to support student success.
Founded in Brooklyn in 1896, Adelphi is Long Island's oldest private coeducational university. Today Adelphi serves nearly 8,000 students at its beautiful main campus in Garden City, New York—just 23 miles from New York City's cultural and internship opportunities—and at dynamic learning hubs in Manhattan, the Hudson Valley and Suffolk County, and online.
More than 100,000 Adelphi graduates have gained the skills to thrive professionally as active, caring citizens, making their mark on the University, their communities and the world.